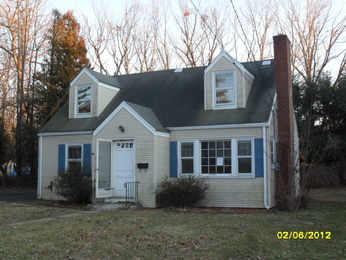 The FHA is swamped with foreclosed homes that they are trying to sell nationwide.  Single family homes foreclosed on by the FHA are being sold through the U.S. Department of Housing and Urban Development (HUD).  Since holding an empty house is an expensive proposition for a lender, HUD is a motivated seller.  Accordingly, many single family  homes for sale by HUD could wind up being bargains for first time home buyers or investors.
The housing crash that ensued in the wake of the housing mania has vaporized trillions of dollars of home equity.  In a short three years, the median net worth of the average American family has plunged from $126,000 in 2007 to only $77,000 in 2010, a 39% decline.  The Federal Reserve, which released the figures on median net worth, noted that this huge decline has wiped out 20 years of wealth accumulation.
While devastating to current homeowners who assumed that housing prices could only go in one direction, the decline in real estate values represents a huge opportunity to first time home buyers who were unable to afford a home when prices were high.  The housing bust has been so severe that buyers in many parts of the country are now able to actually own a home for less than the cost of renting.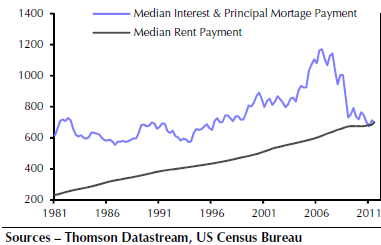 HUD has an easy to use web site that allows you to select houses for sale by state, county and price range.  Included with the listing are numerous photos of the house.  A quick scan of properties for sale in Connecticut made me realize how deep the decline in housing prices has been.  Attitudes have also changed about home buying.  During the height of the housing mania, many buyers put in high bids above the listing price, convinced that they could easily resell in a year for huge profits.  Banks were eager to lend to any buyer, qualified or not, with little consideration given to the borrower's income level or credit rating.  The new realistic attitudes towards housing have tipped the scale in favor of qualified buyers.
A quick scan of Connecticut HUD listings of single family homes for sale revealed that the American dream of homeownership has once again become possible for the average American.  Here's one example:
A single family cape in Manchester, CT.  The property is 1176 square feet with 3 bed rooms, 1 bath, a garage and was built in 1951.  The interior pictures of the home reveal no obvious problems and the house has a lot of curb appeal.  The list price is $90,000 with FHA financing available which means a buyer only needs a down payment of 3.5%.  Best of all, if the buyer needs updates or repairs to the home, 203k financing is also available.  A quick search on Zillow shows that the property's estimated value is $100,900.  The home last sold in April 2000 for $87,500 – a buyer is getting about the same price on the home that it sold for 12 years ago!  In 2006, the value of the property had been estimated at over $170,000.
The best part is the low payment.  After making a 3.5% down payment the principal and interest payment comes to $409 at 3.75%.  Property taxes, monthly FHA mortgage insurance and home owners insurance will add about another $464 per month for a total housing expense of $873 per month.   Does buying this home make sense?  Zillow estimates that the home could be rented for $1,242 per month making it a good buy for an investor.  For a prospective home buyer who is currently paying rent of around $800 per month, it is also a compelling purchase since with a fixed rate mortgage, the principal and interest payment will never increase and after 30 years you wind up owning the home.