Historically speaking, there has never been a better time to purchase a home.  FHA fixed mortgage rates of about 3.75% are the lowest in history and have greatly contributed to lowering the cost of owning a home.  For example, the monthly mortgage payment on a home purchased for $150,000 with the minimum FHA down payment of 3.5% would amount to only $681 per month.
Many potential first time home buyers remain on the sidelines due to the economic uncertainty but in many ways, there has never been a better time to purchase a home.
A few short years ago, home were overpriced in relationship to historical trend lines and incomes.  The crash of the real estate bubble that started in 2008 has brought the price of many homes down to very affordable levels.
In many parts of the country, real home prices have returned to the levels they were at in 2000.  The chart below from calculatedrisk shows the drastic decline in home values according to various indices.  Prices will vary greatly depending on the location, but home values in hard hit states such as Florida and Nevada have decline by up to 70% from peak levels.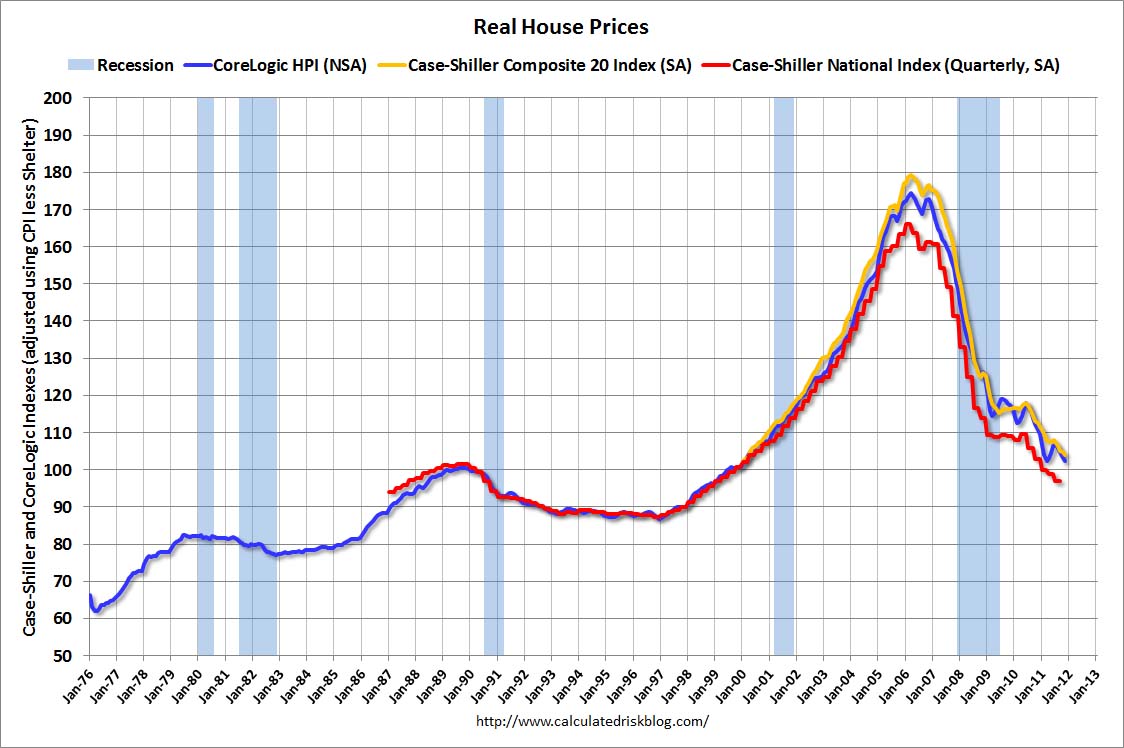 Although home values may continue to decline, a homeowner purchasing a home that he intends to stay in for an extended period of time will probably experience not only the pride of home ownership but also home price appreciation.  Markets do not decline forever and when the final bottom is reached, prices could rise quite quickly.
The other favorable factor for home buyers is the rent to own ratio which has never been lower.   Quite simply, the rent to own ratio compares the cost of renting to the cost of a mortgage payment.  Going as far back as 1981, it has always been more expensive to own a home instead of renting one.
Due to the decline in home values and interest rates, we have now reached the extraordinary situation whereby it is just as cheap to own a home as it is to rent one.  The obvious benefit to a home buyer is being able to lock in a 30 year fixed mortgage rate on which the payment will never go up.  Anyone currently renting knows that besides having to deal with a landlord, the rent usually increases year after year.
All of the artificial price appreciation from the mortgage bubble years has now been erased and home prices are at the lowest levels in a decade.   The downside risk for first time home buyers appears to be quite low at this point.