The FHA has a special refinance program that can reduce a homeowner's monthly mortgage payment.  Under the FHA Streamline Refinance program, a borrower is allowed to refinance to a lower rate with greatly reduced documentation requirements and easier underwriting rules.
The FHA Streamline Refinance program has certain eligibility requirements, as follows:
The borrower must already have an FHA insured mortgage.
The borrower cannot be delinquent on the mortgage to be refinanced.
There must be a net benefit to the borrower seeking to refinance, resulting in a lower monthly payment of principal and interest.
The borrower is not allowed to take cash out on an FHA streamline refinance.
Although the FHA streamline refinance can result in lower monthly mortgage payments, the homeowner should take into account the closing costs associated with the refinance.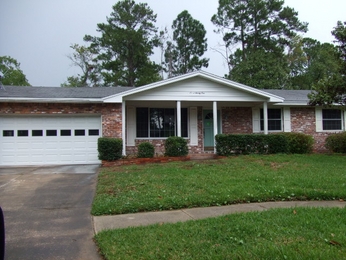 FHA lenders typically offer a borrower the option of financing the closing costs into the new mortgage or paying for the closing costs in cash.  The no cash out of pocket refinance will involve paying a slightly higher interest rate.  The higher interest rate results in additional premium payments to the lender which offset the costs involved in the refinance.
Most borrowers prefer to have closing costs rolled into the new mortgage and avoid paying closing costs out of pocket.  However, this option is only available to the borrower if there is sufficient equity in the house based on the appraised value.  If closing costs are rolled into the new mortgage, the new loan amount may exceed the original loan amount, triggering a mandatory appraisal.  If the new mortgage loan amount does not exceed the original mortgage loan, no appraisal is required.  Therefore, many homeowners may ultimately chose to pay the out of pocket closing costs to avoid the cost of an appraisal and the potential pitfall of a low appraisal value.
The rules regarding the refinance of an existing FHA mortgage using the FHA streamline refinance program can become complicated.  A homeowner seeking to obtain a lower mortgage rate through the FHA streamline refinance program should contact a HUD approved FHA lender for consultation.  After providing a lender with the necessary information, a borrower can be advised by the lender if a streamline refinance makes sense.