Mortgage defaults are at an all time high as property values plunge, incomes drop, unemployment rises and the average consumer is squeezed by the exploding cost of daily necessities.
The housing situation is at a critical stage and not likely to improve any time soon.  Here are some highlights from a recent report by the Federal Reserve on the housing disaster.
More than $7 trillion in home equity has vanished since 2006.
Currently, about 12 million homeowners are in a negative equity position which means that the borrower owes more than the house is worth.  One out of every 5 homeowners is in a negative equity position.
In Nevada, Arizona and Florida, an astonishing 50% of all mortgage borrowers owe more than their house is worth.
There are 2 million vacant home in the U.S. that are for sale.  Banks currently hold as real estate owned (REO) about 500,000 homes that were taken through foreclosure actions.  The Federal Reserve expects that the number of REO properties will increase by 1,000,000 this year and next.  All of these foreclosed homes must be sold by the banks which will put downward pressure on residential real estate values.
The Federal Reserve and the Federal Government have spent trillions of dollars trying to prop up property markets with little success.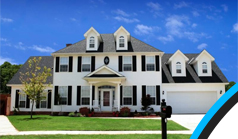 Does all this negative news sound like the makings of a bottom in the housing market?  Not likely, according to RealtyTrac which reports an almost unimaginable number of foreclosure filings during 2011.
RealtyTrac® (www.realtytrac.com), the leading online marketplace for foreclosure properties, today released its Year-End 2011 U.S. Foreclosure Market Report™, which shows a total of 2,698,967 foreclosure filings — default notices, scheduled auctions and bank repossessions — were reported on 1,887,777 U.S. properties in 2011, a decrease of 34 percent in total properties from 2010. Foreclosure activity in 2011 was 33 percent below the 2009 total and 19 percent below the 2008 total.
Expect the situation to get even worse this year.  The decline in foreclosures during 2011 had nothing to do with a recovery in real estate values, but rather was due to delays in being able to timely foreclose on delinquent borrowers.  This from RealtyTrac:
"Foreclosures were in full delay mode in 2011, resulting in a dramatic drop in foreclosure activity for the year," said Brandon Moore, chief executive officer of RealtyTrac. "The lack of clarity regarding many of the documentation and legal issues plaguing the foreclosure industry means that we are continuing to see a highly dysfunctional foreclosure process that is inefficiently dealing with delinquent mortgages — particularly in states with a judicial foreclosure process.

"There were strong signs in the second half of 2011 that lenders are finally beginning to push through some of the delayed foreclosures in select local markets. We expect that trend to continue this year, boosting foreclosure activity for 2012 higher than it was in 2011, though still below the peak of 2010."
Struggling homeowners who owe a mortgage balance that is far in excess of the home's value are likely to give up at some point and simply stop paying.  Ever wonder how all the money was created in the first place to lend to homeowners who are now buried in debt?  Here's a great video that explains how money is "created" and who winds up winning and losing.
http://youtu.be/Cm7Z3sOqE84