For most borrowers, the hardest part on the path to home ownership is being able to save the required downpayment.  In addition to the basic downpayment, a borrower also needs funds for a home inspections, an appraisal, legal fees, title costs and mortgage company fees.
Since it is difficult for many first time home buyers to accumulate the savings necessary for the downpayment and various closing costs, the first choice loan program for most purchasers is the FHA mortgage program.
The FHA requires only a 3.5% downpayment for borrowers with a credit score of 580 or higher.  Borrowers with a credit score between 500 and 579 are also eligible for FHA financing but are required to make a downpayment of 10% of the purchase price.
What is the source of downpayments for the average FHA borrower?
According to the U.S. Department of Housing and Urban Development (HUD), the vast majority of downpayments for home purchases come from savings accumulated by the borrower.   Since 2009, over 75% of downpayment funds for the purchase of a home came from the borrower while approximately 25% of borrowers funded their downpayment with gifts from relatives.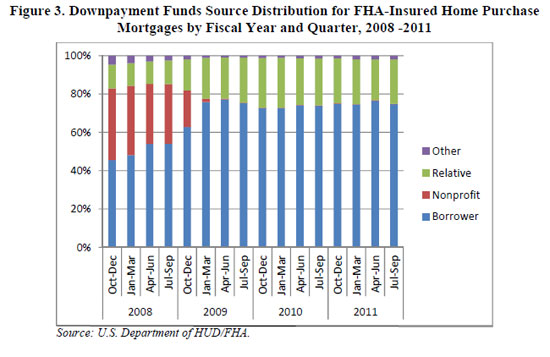 Prior to 2009, the FHA allowed seller funded downpayments and gift downpayments from nonprofit organizations.  The FHA discontinued these types of downpayment funding due to widespread abuses and fraudulent practices that allowed the downpayment to be built into the selling pricing by inflating the appraised value of the property.  Statistical studies done by the FHA also showed a much higher default rate by borrowers who contributed none of their own funds to the purchase of a home.
According to HUD, prior to prohibiting the use of seller funded downpayments, "the share of borrowers using their own funds for downpayments had fallen below 50 percent.  As a share of new FHA home-purchase loan endorsements, the very risky seller-funded-downpayment loans were as high as 37 percent in the first quarter of FY 2008."
Based on the high default rates and widespread abuses involved in seller funded and nonprofit downpayment assistance programs, it is highly unlikely that HUD will allow this type of downpayment method to be used in the future.